We slice your entire shoulder and wrap the slices in 100-gram vacuum packs, separating them with plastic strips for easier serving.
Keep in the refrigerator.
Expires 6 months after delivery.
Once a pack has been opened, consume it within 2-3 days.
Bones are included for making broth and cooking.
We can slice the shoulder by machine (+26.69 €) or with a knife (+57.19 €).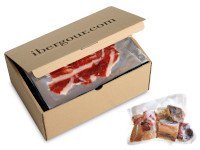 Sliced shoulder ham, with bones