Price

17.90 €

VAT included
Brand

Arcos Hermanos (Albacete, Spain)
Description
Arcos Hermanos (Albacete) directions on how to use this knife

Wash knives immediately after using
Avoid scrubbing with very abrasive scourers
Do not leave knives in water for more than 15 minutes
Dry with a soft cloth immediately after washing
Do not leave knives in the dishwasher after washing
Never use bleach, soda or chlorine detergents as they may cause rusting
Treat the blade with care and avoid striking it against a hard surface
Sharpen knives periodically with an appropriate sharpener
Be careful with the blade tip; avoid dropping the knife and do not use it as a screwdriver
The knife comes in a plastic-covered cardboard box (see photo).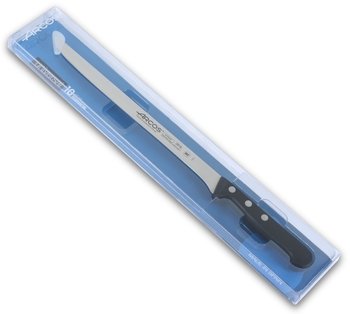 Arcos Hermanos, S.A. has made high-quality cutlery for professional, table and kitchen use since 1875.
Arcos is located in Albacete (one of the world's leading cities in the cutlery sector) and exports to more than 60 countries on the five continents.
Half of the kitchen knives purchased in Spain alone are made by Arcos [laverdad.es, July 2006].
Arcos meets the ISO-9001 requirements and is certified by N.S.F., the N.S.F., Spanish food safety register, the Green Dot trademark and S.G.S. ICS Ibérica.
We ship to all countries in the European Union, United Kingdom, Isle of Man and Monaco.
| | | |
| --- | --- | --- |
| Standard Shipping | 15.81 € | To be delivered between Wednesday, December 13 and Monday, December 18 (possibly before but we can't guarantee it) |
| Super Express shipping | 61.71 € | To be delivered between tomorrow Tuesday, December 12 and Wednesday, December 13 (possibly before but we can't guarantee it) |
You will choose your shipping speed later at checkout, after you fill in your delivery address.
¿Do you want it delivered on a different date?
Contact us
after placing your order, and we will ship it on the date of your choice.