Jamon 5J Cinco Jotas Bellota Pata Negra Ham
Better together
Description of Jamon 5J Cinco Jotas Bellota Pata Negra Ham
Price

73.83 €

/kg VAT included

Brand

5J Cinco Jotas

Breed

100% purebred Iberian (pata negra)

Diet

Bellota Top quality: pig fed exclusively on acorns (more)

Curing

From 30 to 42 months.

Origin

Huelva, Spain

Cut

Hind leg

Producer

Sánchez Romero Carvajal

Nutrition facts

Each 100 grams of this ham contains the following, approximately: Calories (Energy): 350 Kcal / 1458 KJ, Protein: 32,5 g, Total carbohydrate: <0,8 g, Total Fat: 24,1 g (6,68 g Saturated fat), Sodium: 1,60 g

Processing

Pata Negra ham from purebred Iberian pigs reared on the open range in Spanish woodlands on a diet of acorns during the fattening period. Processing involves cooling and cutting into a V shape, trimming off the outer fat, salting, rinsing, balancing, drying and cellar-ageing.

Ingredients

Ham from bellota-grade purebred Iberian pigs, sea salt, antioxidant E-301, acidity regulator E-331(iii) and preservative E-252. Gluten free.

Production

Taste note

Persistent aroma and uniform colour with streaks of glossy marbling fat.

Outer appearance

Long and slender with greyish-yellow fat. Black hoof, sometimes streaked. Covered with mould that may turn black when touched.

Storing and expiry date

It depends on the format. See "Presentation" below.
"5 Jotas" is probably the Iberian ham best known in Spain for its quality and is mainly responsible for the exceptional fame of Pata Negra ham.
It is a ham with intense, lasting flavor, in the style of hams from Huelva.
Sánchez Romero Carvajal is different from most ham producers and opts for breeding 100% pure Iberian pigs. The yield for this breed is lower and production costs are higher than for cross-breed pigs (Iberian + white), but the end result is better flavor and aroma.
Its benefits include less salt, few calories and less bad cholesterol, which makes it healthy for your cardiovascular system.
The new Iberian ham quality regulations (January 2014) aim to expand the use of pure Iberian pigs fed a diet of acorns. These hams will be identified with a black seal and will be the only ones that can indicate "Pata Negra" (black hoof) on the label.
Packaging
Hams and shoulders are not packed in individual cartons. We place all the items you purchase in the smallest possible number of cartons to save on shipping costs. If you prefer having them packed in a different way, email us at info@ibergour.com indicating how many hams/shoulders you want, where you want them shipped and how you want them packed. We will calculate the additional cost of shipping according to your indications.
Bone-in
We ship the whole ham wrapped in grease-free paper and an outside cloth wrapper, all encased in a plastic bag for maximum hygiene. When you receive it, take it out of the bag and remove all the wrapping. You can keep it hung by the string at room temperature for up to 6 months before starting it. Once cutting has started, consume it in 1-2 months.
Once the ham has been started, mold may appear around the carving area if nothing has been consumed for several days, especially in damp climates or environments. This is normal; all you need to do is discard the first slice to eliminate the mold.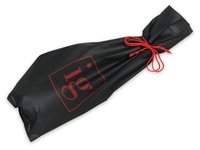 The ham in its cloth casing
Boneless +11.35 €
We remove the rind and the bone, cutting it into as many parts as you wish, and vacuum wrap each piece separately. We leave only the edible fat (ready to slice and serve).
Keep it in the refrigerator.
Expires 6 months after delivery.
Once a piece is unwrapped it should be consumed within 2 weeks.
Bones are included for making broth and in cooking.
Click on "+ options" to choose the number of pieces you want (default value is one).
Sliced
We slice your entire ham and wrap the slices in 100-gram vacuum packs, separating them with plastic strips for easier serving.
Keep in the refrigerator.
Expires 6 months after delivery.
Once a pack has been opened, consume it within 2-3 days.
Bones are included for making broth and cooking.
We can slice the ham by machine (+37.16 €) or with a knife (+80.08 €). Click on "+ options" to choose how you want it sliced (default is machine sliced).
Shipping & Delivery Date
We ship to all countries in the European Union, plus United Kingdom, Isle of Man and Monaco.
Shipping speeds for Holland [choose a different destination]

| | | |
| --- | --- | --- |
| Standard Shipping | 6.97 € | To be delivered between Wednesday, January 26 and Monday, January 31.* |
| Super Express shipping | 84.01 € | To be delivered Tuesday, January 25.* |

* These dates are valid if you do not request any handling. If you request any additional service (boning, slicing, etc.), add 2 working days.

You will choose your shipping speed later at checkout, after you fill in your delivery address.
¿Do you want it delivered on a different date?
Contact us
after placing your order, and we will ship it on the date of your choice.
Sales statistics
On sale since December 7, 2006
Nº 3 in sales

of 19 hams for purchase at IberGour.

Nº 5 in repeat purchase

: 26.6% of customers have re-ordered this product.
Why buy from IberGour?
Specialists in online sales
More than 25,000 clients throughout Europe
Direct selling from Spain, at spanish prices
Our customers' reviews
Average rating:

4.7 (see how the average rating is calculated)

Outstanding Quality
, June 29, 2021
Robert (Hungary) Has purchased this product at IberGour
This ham is very tender and full of flavours. Perfect ratio of meet and fat. Last time I ordered Jamon Joselito Gran Reserva Ham but this one taste better for me. My son (13) allows me to order only this one in the future.
And there is an excellent customer care. Miguel reminded me that I ordered in a different way last time. And he was right! I promised him something which I will keep if he contact me he know when. :)
How to slice a spanish cured ham
The slicing of a ham with a knife is part of the genuine, quality Iberico ham tasting experience. It is a simple process too, with the right equipment. Nevertheless, certain safety measures should be observed.
Use a holder designed for this purpose, to keep the ham firmly in place.
When slicing, the hand not holding the knife should always be higher than the hand holding the knife.
Keep your body at a safe distance from the cutting area.
Slice slowly, without applying too much force.
See a complete step by step guide, with images
Slicing manual: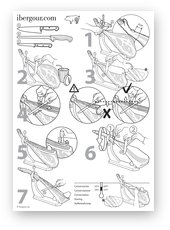 Download our jamon slicing manual (PDF 1,1 MB)
Other products from Sánchez Romero Carvajal

bone-in, boneless or sliced
5J Sánchez Romero Carvajal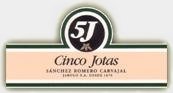 The Cinco Jotas (5J) brand has become a synonym for top quality in Iberian pig products because of the combination of five essential requirements:
Genuine ham producer since 1879
Purebred Iberian pigs
Reared on the open range
Acorn-fed
Artisanal curing by the master ham processor
The brand sets strict quality control and organoleptic standards that make 5J products an exclusive in the marketplace, preferred by experts and lovers of fine gastronomy. Only the best cuts bear the Cinco Jotas brand, which is synonymous with the highest quality in Pata Negra hams.
Sánchez Romero Carvajal S.A. was founded in Huelva in 1879. It is one of the most prestigious companies in the sector and makes some of the most highly prized hams in the world. The quality of the end product is guaranteed by purebred Iberian pigs and the exceptional microclimate in the area around the Sierra de Huelva, together with extreme care in processing and preserving.
Sánchez Romero Carvajal has exported its products to all of Europe since 1996. Its quality assurance and environmental management methods meet the ISO 9001 and 14001 Standards and are SGS certified.