Jamón D.O. Dehesa de Extremadura Bellota
In stock but may require an extra 1-3 days to ship
See shipping speeds

Other formats

Vacuum-packed starting at
382.50 €
(3 Kg net weight)

16.90 €
the 100-gram pack
5% to 10% discount if you buy 10 or more packs
Customers Who Viewed This Item Finally Bought
Descripción del Jamón D.O. Dehesa de Extremadura Bellota
Price

56.90 €

/Kg VAT included

Brand

Denomination of Origin Extremadura

Raza

Ibérico

Alimentación

Bellota Máxima calidad: cerdo alimentado sólo con bellota (+ info)

Curación

Entre 40 y 42 meses.

Origen

Extremadura

Parte

Pata trasera

Elaboración

Jamones elaborados de forma artesanal por pequeños productores seleccionados por IberGour.

Ingredientes

Jamón ibérico, sal común y sales nitrificantes autorizadas (E-250, E-252).

Producción

Caducidad

Se recomienda consumir la pieza durante los 6 meses siguientes a su recepción.

Conservación y consumo

No requiere frío ni ninguna otra condición especial para conservarse; puede dejarse a temperatura ambiente (+ info).
Sales statistics
On sale since June 13, 2006
Nº 12 en repetición

: el 17,4% de los clientes han vuelto a comprar este producto.

Nº 1 en fiabilidad

: Ninguna devolución de este producto en el último año.
Packaging & shipping
Presentación
El jamón se entrega en una caja de cartón, envuelto en papel antigraso y enfundado en un forro de tela blanca (ver foto). Incluye un cordón para poder colgar la pieza.
Las cajas de cartón usadas para transportar el jamón/la paletilla no son individuales: meteremos todos los productos que compres en el mínimo número de cajas posible para reducir los costes de transporte. Si prefieres que los empaquetemos de otra forma, envíanos un email a info@ibergour.com indicando cuántos jamones/paletillas quieres, a dónde quieres enviarlos y cómo quieres que los empaquetemos, y te calcularemos el sobrecoste de enviarlo como indiques.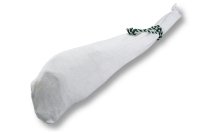 Packaging & shipping
¿Do you want it delivered on a different date?
Contact us
after placing your order, and we will ship it on the date of your choice.
Returns guarantee
Si tu producto sale defectuoso, te lo cambiamos por otro o te devolvemos el dinero, pagando nosotros todos los gastos de transporte de la devolución y del reenvío. [Cómo saber si mi jamón es defectuoso]
La devolución deberá realizarse en el embalaje original antes de 15 días desde la fecha de entrega.
No se aceptarán devoluciones cuando el peso de la pieza devuelta (sin los restos de grasa y corteza) sea inferior a un 75% del peso de la pieza original.
Why buy from IberGour?
Specialists in online sales
More than 14,000 clients throughout Europe
FREE Shipping for orders starting at

200 €
Our customers' reviews

As good as it gets
, April 27, 2010
Alastair (Guernsey) Has purchased this product at IberGour
Bought this ham in 2006 for our wedding, and the one we received was perfect. Spent many years working on Baker St so used to pop down to Selfridges food hall regularly and try each iberico that passed through their hands. They never had this one but the one we received I'd rank above Cinco Jotas and on a par with Joselito for sweetness and depth of flavour. I've certainly never had on better, in the uk or Spain.
The only issue is you're not dealing with a single provider so there could be less consistency with regards to quality.
Post a reply

You are sharing your opinion on...

Jamón D.O. Dehesa de Extremadura Bellota
Publish your review:
Customers Who Viewed This Item Also Viewed
---
How to slice a spanish cured ham
The slicing of a ham with a knife is part of the genuine, quality Iberico ham tasting experience. It is a simple process too, with the right equipment. Nevertheless, certain safety measures should be observed.
Use a holder designed for this purpose, to keep the ham firmly in place.
When slicing, the hand not holding the knife should always be higher than the hand holding the knife.
Keep your body at a safe distance from the cutting area.
Slice slowly, without applying too much force.
See a complete step by step guide, with images
Slicing manual: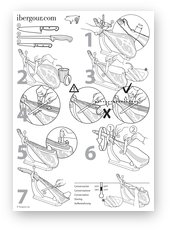 Download our ham slicing manual (PDF 1,1 MB)
Dehesa de Extremadura Designation of Origin (D.O.) - Bellota grade quality

The red band on the hoof of these hams certifies that they are of Bellota Grade Quality, the finest quality produced by the D.O. Dehesa de Extremadura region.
The red band is the distinction conferred by the Producers' Association of the Dehesa de Extremadura Designation of Origin certifying that you have bought one of the choicest Ibérico bellota hams produced in Spain.
This marking, and the certification of breed of the purebred hogs, supervision of feeding (exclusively acorn-based diet), and stringent controls for slaughter and salting/drying periods, are the highest guarantee of the quality of these hams.
More about ham from Extremadura »