Casa Sendra is a family business renowned for the savoir-faire it has accumulated in its more than 150 years of tradition.
The word that best defines them is perfection. They make only three types of sausages: salchichón in a colon casing, salchichón in a semicolon casing and somalla, a type of Catalan sausage, all in very limited amounts, made with great care in the artisanal tradition.
They butcher their own pigs and control breeding, using only the best meat. The other ingredients and the casings for the sausages are also of the highest quality.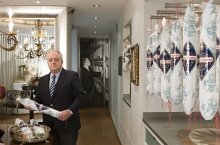 Pau Arboix, owner of Casa Sendra