Price

198.60 €

VAT included
Brand

Zwilling Henckels
Description

The Twin Pollux 5 Piece Ham Carving Set includes:

Zwilling Twin Pollux ham carving knife 26 cm. (10.24")

(Ref. 30723-261)

Zwilling Twin Pollux ham boning knife 14 cm. (5.5")

(Ref. 30744-141)

Zwilling Twin Pollux cook's knife 20 cm. (7.9")

(Ref. 30720-201)

Zwilling Sharpening Steel 26 cm. (10.2")

(Ref. 32576-261)

Zwilling Apron

(Ref. 99901-697)

About the knives:

Zwilling high-carbon and chromium stainless steel knife
FRIODUR ice-hardened steel

(cold hardening improves cutting consistency and corrosion resistance)

SCT process, for making each part of the knife with the most appropriate alloy.
Hand sharpened

(sharpening under laser control ensures an optimum cutting angle and uniform sharpening from tip to bolster)

Ergonomic polyoxymethylene handle

(recyclable high-strength material with high load-bearing capacity)

The handle is mounted to the blade without solder or joints

(more hygienic)

Dishwasher safe

About the apron:

Size: standard.
Materials: 65% Polyester, 35% cotton.
Machine Wash, warm (40 ºC).
DO NOT TUMBLE DRY.
How to recognize a quality knife

Clean processing The knife parts are assembled without grooves. This is especially important for hygiene. There are no irregularities or burrs on the blade or the handle, which prevents proliferation of bacteria.
Safety The handle and bolster are shaped for gripping the knife firmly so it will not slip. An ergonomic handle and just the right weight ensure working comfortably and safely.
Cutting consistency With proper care, a good knife will stay sharp for a long time.
Corrosion resistance The more finely polished the blade, the more resistant it will be to corrosion.
Knives and the dishwasher Quality knives with plastic or fine steel handles are dishwasher safe (preferably with an economy programme and maximum temperature of 55º C). However, we recommend washing by hand because it is gentler. Knives with wooden handles can be washed only under running water.
The kit comes in a beautiful cardboard box (see photo).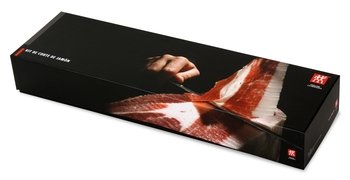 The history of Zwilling J.A. Henckels goes back to June 1731, when Peter Henckels registered the Zwilling brand (the word means "twin") with the knife-makers guild in Solingen, Germany.
Today Zwilling is Germany's leading cutlery maker and sells its products in over 100 countries. Its knives are synonymous with top quality and functionality throughout the world.
The stainless steel used for Zwilling knives combines high carbon content with chromium and other components that make it ideal for cutting tools.
We ship to all countries in the European Union, United Kingdom, Isle of Man and Monaco.
| | | |
| --- | --- | --- |
| Standard Shipping | 6.84 € | To be delivered between Wednesday, December 13 and Monday, December 18 (possibly before but we can't guarantee it) |
| Super Express shipping | 52.03 € | To be delivered between tomorrow Tuesday, December 12 and Wednesday, December 13 (possibly before but we can't guarantee it) |
You will choose your shipping speed later at checkout, after you fill in your delivery address.
¿Do you want it delivered on a different date?
Contact us
after placing your order, and we will ship it on the date of your choice.