Price

41.20 €

VAT included
Brand

Zwilling Henckels
Description

Stainless steel knife sharpener
Length: 19 cm
For sharpening and shaping plain-edge knives
Groove I: steel wheels for pre-sharpening and coarse sharpening
Groove II: ceramic wheels for fine sharpening and shaping
Zwilling Henckels (Alemania) directions on how to use this sharpener

Place the sharpener on a flat surface. Make sure the knife is clean.
Grasp the sharpener with the left or right hand so your thumb and index finger are touching. Press the sharpener lightly against the surface.
Insert the end of the blade near the handle into the appropriate groove.
Draw the blade toward you, applying light downward pressure. Keep the pressure light and do not use a back-and-forth sawing motion. Depending on how dull the blade is, you may have to repeat this action up to a maximum of five times.
If the knife is very dull, use groove I first and then groove II, to recover the original sharpness.

Important notes:

No liquid is needed for sharpening.
Clean the sharpener by turning it upside down so the residue will fall off the wheels.
Do not wash it with water or put it in the dishwasher. Just clean it with a soft, dry cloth.
The TwinSharp Select is not suitable for scissors or special knives.
The wheels are set at the appropriate angle for household knives. A different angle may be needed to sharpen Oriental knives.
The sharpener comes in a plastic-covered cardboard box (see photo).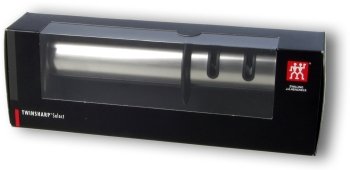 The history of Zwilling J.A. Henckels goes back to June 1731, when Peter Henckels registered the Zwilling brand (the word means "twin") with the knife-makers guild in Solingen, Germany.
Today Zwilling is Germany's leading cutlery maker and sells its products in over 100 countries. Its knives are synonymous with top quality and functionality throughout the world.
The stainless steel used for Zwilling knives combines high carbon content with chromium and other components that make it ideal for cutting tools.
We ship to all countries in the European Union, United Kingdom, Isle of Man and Monaco.
| | | |
| --- | --- | --- |
| Standard Shipping | 16.06 € | To be delivered between Tuesday, March 28 and Friday, March 31 (possibly before but we can't guarantee it) |
| Super Express shipping | 61.71 € | To be delivered between Monday, March 27 and Tuesday, March 28 (possibly before but we can't guarantee it) |
You will choose your shipping speed later at checkout, after you fill in your delivery address.
¿Do you want it delivered on a different date?
Contact us
after placing your order, and we will ship it on the date of your choice.