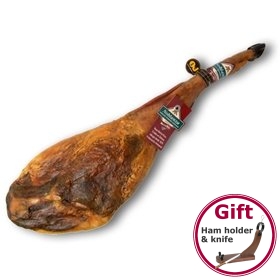 Jamon Noblanza Recebo Iberico Ham
Description of Jamon Noblanza Recebo Iberico Ham
Brand

Noblanza

Breed

Purebred Iberian

Diet

Recebo Pig fed on acorns and compound feed (more)

Curing

From 20 to 32 months.

Origin

Huelva

Cut

Hind leg

Producer

Sánchez Romero Carvajal

Processing

Jamón from Noblanza purebred Iberian pigs reared on the open range in Spanish woodlands on a diet of acorns during the fattening period (

montanera

), supplemented at the end of the fattening period with compound feed consisting of cereals and legumes. Processing involves cooling and cutting into a V shape, trimming off outer fat, salting, rinsing, balancing, drying and cellar-ageing.

Ingredients: Jamón from recebo-grade purebred Iberian pigs, salt, authorised sugars and preservatives.

Production

Taste note

Uniform colour with numerous streaks of glossy marbling fat. Pleasant intense aroma.

Outer appearance

Long and slender in the typical Serrano V shape, cut close to the pelvic bone, with greyish-yellow fat. Black hoof, sometimes streaked.

Enjoying your jamón

We recommend eating your jamón within 6 months after delivery.
Packaging
Hams and shoulders are not packed in individual cartons. We place all the items you purchase in the smallest possible number of cartons to save on shipping costs. If you prefer having them packed in a different way, email us at info@ibergour.com indicating how many hams/shoulders you want, where you want them shipped and how you want them packed. We will calculate the additional cost of shipping according to your indications.
Bone-in
We ship the whole ham wrapped in grease-free paper and an outside cloth wrapper, all encased in a plastic bag for maximum hygiene. When you receive it, take it out of the bag and remove all the wrapping. You can keep it hung by the string at room temperature for up to 6 months before starting it. Once cutting has started, consume it in 1-2 months.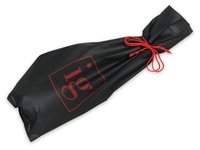 The ham in its cloth casing
Boneless +11.35 €
We remove the rind and the bone, cutting it into as many parts as you wish, and vacuum wrap each piece separately. We leave only the edible fat (ready to slice and serve).
Keep it in the refrigerator.
Expires 6 months after delivery.
Once a piece is unwrapped it should be consumed within 2 weeks.
Bones are included for making broth and in cooking.
Click on "+ options" to choose the number of pieces you want (default value is one).
Sliced
We slice your entire ham and wrap the slices in 100-gram vacuum packs, separating them with plastic strips for easier serving.
Keep in the refrigerator.
Expires 6 months after delivery.
Once a pack has been opened, consume it within 2-3 days.
Bones are included for making broth and cooking.
We can slice the ham by machine (+37.16 €) or with a knife (+80.08 €). Click on "+ options" to choose how you want it sliced (default is machine sliced).
Why buy from IberGour?
Specialists in online sales
More than 25,000 clients throughout Europe
Direct selling from Spain, at spanish prices
Our customers' reviews
---
How to slice a spanish cured ham
The slicing of a ham with a knife is part of the genuine, quality Iberico ham tasting experience. It is a simple process too, with the right equipment. Nevertheless, certain safety measures should be observed.
Use a holder designed for this purpose, to keep the ham firmly in place.
When slicing, the hand not holding the knife should always be higher than the hand holding the knife.
Keep your body at a safe distance from the cutting area.
Slice slowly, without applying too much force.
See a complete step by step guide, with images
Slicing manual: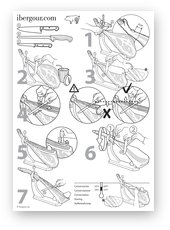 Download our jamon slicing manual (PDF 1,1 MB)
Other products from Sánchez Romero Carvajal

bone-in, boneless or sliced
Pata Negra 100% purebred Iberian
bone-in, boneless or sliced
Noblanza Sánchez Romero Carvajal - Jabugo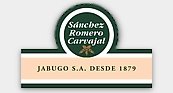 Noblanza is a ham with the meticulous quality characteristic of the firm of Sánchez Romero Carvajal:
Genuine Jabugo since 1879
Purebred Iberian pigs
Reared on the open range
Carefully controlled natural diet
Artisanal curing by the master ham processor
Iberian pigs feed on the open range and eat as much as 400 kg of acorns and 400 kg of grass during the fattening period.
Noblanza surpasses the standards set by the Quality Standard (Royal Decree 1083/2001) for breed, diet and processing times.
Sánchez Romero Carvajal Jabugo S.A. was founded in Jabugo (Huelva province) in 1879. It is one of the most prestigious companies in the sector and makes some of the most highly prized hams in the world. The quality of the end product is guaranteed by purebred Iberian pigs and the exceptional microclimate in the area around Jabugo, together with extreme care in processing and preserving.
Sánchez Romero Carvajal has exported its products to all of Europe since 1996. Its quality assurance and environmental management methods meet the ISO 9001 and 14001 Standards and are SGS certified.