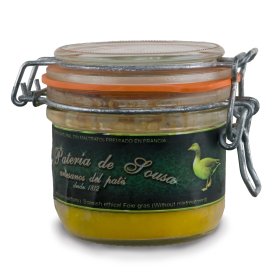 Whole foie gras of iberian goose
Description of Whole foie gras of iberian goose
Brand

Patería de Sousa

Ingredients

Iberian goose liver, sweet wine, salt and pepper. No additives.

Origin

Extremadura

Producer

Patería de Sousa

Expiry date

Minimum 1 year after delivery.

Processing

This liver pâté (foie gras) is the result of an innovative process. The nearly extinct Iberian geese are fattened without resorting to force feeding and raised according to European legislation on animal well-being.

The animals live outdoors in autumn and winter, which is their natural time to build up fat reserves for migration. When they are slaughtered their livers are much larger and contain more fat, making them more flavourful and less bitter.

The woodlands in Extremadura where the geese are raised are a source of high-quality food: mainly figs, legumes, acorns and olives. Their diet is further enriched with natural cereals planted on Sousa's land.

The liver is removed and seasoned with salt and pepper, cooked in a double boiler, cut into two or three pieces (a liver weighs about 600 grams) and bottled without pressing.

This product was awarded the 2006 Coup de Coeur award for innovation by the prestigious Paris International Food Show (SIAL) in France.

"I've tasted the best liver pâté of my life.
My best culinary experience."
Dan Barber, Best Chef of New York in 2006

Production

Iberian geese raised on the open range without force feeding.
The production is very limited (around 2000 geese per year) because 50,000 m2 of pastureland are needed for every 100 geese.

Taste note

Flavourful, rich, delicately creamy.

Enjoying your foie gras

Serve at room temperature or slightly cooler (15-16 ºC)
Keep in the refrigerator after opening, never more than three days.
Packaging
Packaging
The jar ships in a cardboard carton with protective packing.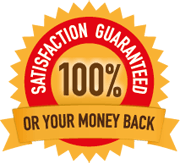 We guarantee that you will love this product, or we will pick it up for free and give you a full refund
6 months guarantee
No questions asked
No small print
Why buy from IberGour?
Specialists in online sales
More than 25,000 clients throughout Europe
FREE Shipping for orders starting at

200 €
Our customers' reviews
Average rating:

3.0 (see how the average rating is calculated)
La Patería de Sousa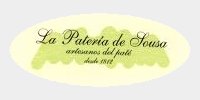 La Patería de Sousa is located in the town of Fuente de Cantos in Extremadura province. They became internationally known after receiving the Coup de Coeur award for innovation at the 2006 Paris International Food Show (SIAL) in France with their liver pâté from Iberian geese raised on the open range in animal-friendly conditions.
Since then, Sousa's "ethical" liver pâté has found a place on the international gourmet scene. Today it is a delicacy hard to find because it is made in small amounts.
The geese and pigs used are raised according to European legislation on animal well-being, living on the open range eating acorns, figs, wild plants and flowers, where they breed and the goslings and suckling pigs are raised.
Eduardo Sousa and his ecologically raised Iberian geese
The traditional method, popularised by the French, is based on force feeding the animals for 18 to 20 days before slaughter to make the liver as big and fatty as possible. Several scientific committees consider this a practice harmful for animal well-being and it has been banned in some countries. Marketing of liver pâté has even been banned in some places.
The Sousa family, of Danish origin, has made their pork- and goose-liver pâtés using artisanal methods since 1812. Pork-liver pâtés are made with the livers of Iberian pigs with the Extremadura Designation of Origin, and goose-liver pâtés come from native Iberian geese.