#JamonByTheFace Dakar Challenge: today along the day we will be tweeting pictures of #Dakar2018 competitors touching their faces. For every picture tweet, tomorrow we will draw a jamon among its retweets. To maximize your odds of winning a jamon for FREE, press this button: Seguir a @ibergour and retweet as many pictures as you wish as we publish them.
Even better: if you find the picture of a competitor from whom we have not published a picture yet, tweet it with a mention to
@ibergour
 and you will get a free jamon directly
, NO DRAWS!
 Just remember that:
it must be a competitor from whom we have not published a picture yet
they must appear touching their face
it must be verifiable that the picture was taken today
your tweet must mention @ibergour
Example: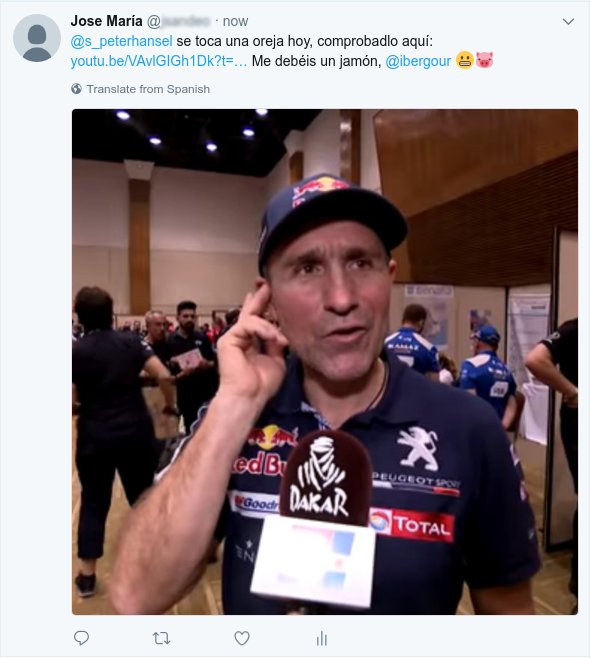 Rules:
You can earn at most one jamon, either because you were the first one to tweet a valid picture or because you won a draw.
You are not required to be the author of the picture. It can be someone else's picture, a video frame, whatever.
We will accept tweets/retweets until 24:00 today, Madrid time (GMT+1).

There must be at least 10 retweets on the same picture for there to be a jamon draw for that picture.

If you live in the EU*, we will ship your jamon for free. If you want it delivered somewhere else, the jamon is yours but you shall take care of shipping yourself (making arrangements for shipping, fulfilling taxes, shipping expenses).


* We do not ship to the Canary Islands, Cyprus, Malta, Gibraltar, Ceuta, Melilla, Azores, Madeira, British Crown Dependencies or the Channel Islands in general.
Results
Yesterday we found all these pictures of Dakar 2018 competitors touching their faces:
@sebastienloeb touches his face today on this video from @francetvsport https://t.co/yzDYyWP8Jy
? ¡RT to win a jamon!
? ¡RT para ganar un jamón!#JamonByTheFace #Dakar2018 Challenge ? pic.twitter.com/eENOvLyeGT

— IberGour (@ibergour) January 9, 2018
This tweet had 12 RTs, and the jamon goes to: @Superxeta
@a_vanbeveren touches his face today on this video from @francetvsport https://t.co/pQjGMbuGz2
? ¡RT to win a jamon!
? ¡RT para ganar un jamón!#JamonByTheFace #Dakar2018 Challenge ? pic.twitter.com/TKUs5tD76M

— IberGour (@ibergour) January 9, 2018
This tweet had 12 RTs, and the jamon goes to: @karlo2011
Other competitor pictures that did not make it to the minimum number of RTs:
#Dakar2018 legend @rafal_sonik touches his face today here: https://t.co/GAZUvJgajd
? ¡RT to win a jamon!
? ¡RT para ganar un jamón!#JamonByTheFace #Dakar Challenge ?

— IberGour (@ibergour) January 9, 2018
#Dakar Ultra-Legend @s_peterhansel touches his face early this morning on this @francetvsport video https://t.co/eptTil8ihd
? ¡RT to win a jamon!
? ¡RT para ganar un jamón!#JamonByTheFace #Dakar2018 Challenge ? pic.twitter.com/N5I4HA8UXs

— IberGour (@ibergour) January 9, 2018
It wasn't @cyrildespres's luckiest day. HOWEVER he touched his face today on this video https://t.co/TBgcWRDZyo and could make you win a jamon FOR FREE
? ¡RT to win a jamon!
? ¡RT para ganar un jamón!#JamonByTheFace #Dakar2018 Challenge ? pic.twitter.com/TRaCHAOVYr

— IberGour (@ibergour) January 9, 2018
El piloto de @KTM_Racing @gerardfarres se toca la cara en este video de @24h_tve y puede hacerte ganar un jamón GRATIS https://t.co/8QqTjdYcvq
? ¡RT para ganar un jamón!
? ¡RT to win a jamon!#JamonByTheFace #Dakar2018 Challenge ? pic.twitter.com/yFQFTqXiSb

— IberGour (@ibergour) January 9, 2018