The other day my friend Isabel told me that at home only her sister cuts the Pata Negra. Not her father or her mother or her grandfather… only her sister was brave enough to face the pig's leg. They aren't actually afraid of the knife, but the reproaches they'd receive from other diners: it's sliced too thick, too thin, don't forget the gristle, put a little elbow grease into it before we all starve, that's not where the meat starts, you're going to cut yourself… Family can be very cruel sometimes, as Julius Caesar found out more than 2000 years ago.
Not wanting to cause a familial breakdown, some choose to take the ham to the butcher for it to be sliced and packed. Not a bad idea, but it'll start off great and the next thing you know you're waiting for Santa Claus with a bacon cheeseburger in lieu of ham, polvorones and singing Christmas carols to a bottle of Anís del Mono.
Therefore, we take the bull by the horns and do it ourselves. The first thing to ask is whether we have the right tools. The knife is crucial, but you can buy a decent one anywhere. It must, of course, be sharpened occasionally because if it doesn't it'll become as harmless as a lamb.
What's hardest to find – almost as difficult as finding an honest politician – is adequate support. Some professional ham cutters tune their jamoneras to improve performance and make the work safer and more comfortable. Some attach a rubber base to have a better grip to the table, others make do with a skewer that allows them to adjust the height of the tip (the side opposite to the hoof) and some daring individuals even patent and manufacture their own designs, such as the person from Malaga who devised this upright cross-sectional jamonero.
The experts know very well what they need: they do, after all, cut hundreds of hams every year. Some are even capable of slicing 36 hams in just 40 hours, more than most mere mortals cut in their lifetime. But all the amateurs out there, do you know what to look for when choosing a ham stand? Here are some tips and recommendations:
1. Stability
So the ham doesn't move while cutting it, you need to make sure the base doesn't slip off of the surface on which it's resting. Despite not weight much, just 4 to 6 rubber studs would be more than sufficient to ensure adequate clamping (see photo 1). Good support helps us to avoid sudden movements and potential accidents, and to provide a fine cut.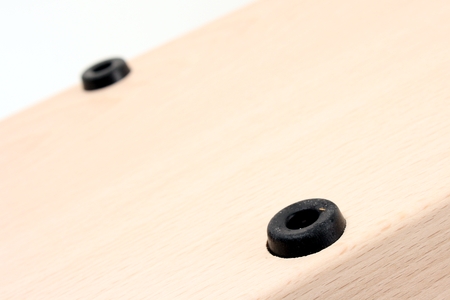 2. Comfort
There are two basic elements that make cutting more comfortable: the rotating grip and height adjustment.
The rotating grip on the trotter (see photo 2) allows you to change cutting zone very quickly without having to loosen or tighten the screw that secures the leg. Just loosen and adjust the screw that allows rotation of the inner ring, and when it's in the desired position, retighten it; this is especially useful for professional cutters. These systems also tend to hold the part better and provide greater stability.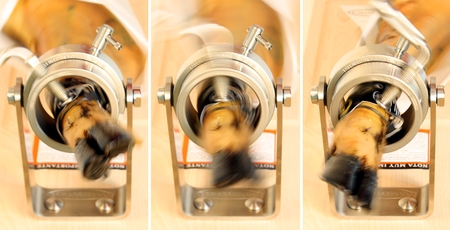 These systems are designed primarily for Pata Negra Bellota hams, which are usually 100% Iberian and therefore have a very narrow shank. With that said, 6cm in diameter is enough to pass the hoof and ankle through the hoop. If, on the contrary, you want to cut a serrano ham, you'd better choose another grip system if you don't want to have surprises.
With height adjustment we can always cut the same way, regardless of the size of the piece or the part of the ham we are working on. It allows us to modify the inclination of the axis of the hoof-tip (see photo 3).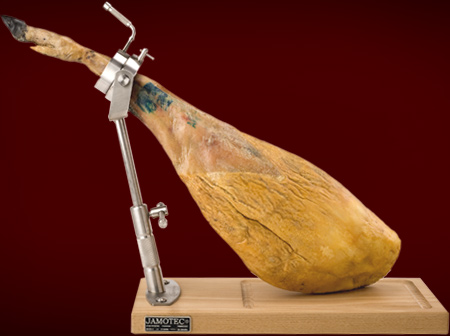 3. Storage and transportation
When the jamonero is intended only for occasional use, the ideal situation would be for it to occupy minimal space. In this sense, some models can fold the arm onto the base (see photo 4). This is also highly recommended for when we need to take it from one place to another.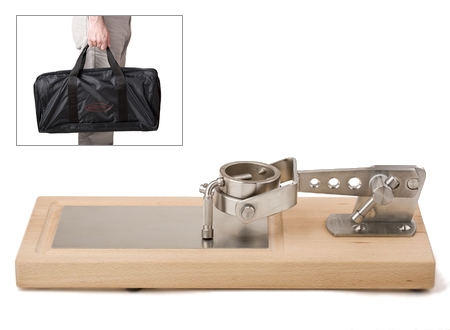 4. Durability
Virtually all brackets costing €25-30 can last us a lifetime if we use it to only cut one or two hams a year. However, professionals need a stronger product that doesn't show any aesthetic signs of deterioration (chips, appearance of rust, marks on wood, etc.).
Wood or steel boards are more resistant. They don't usually break, even after a fall. Silestone or plastic based boards are more fragile. In contrast, silestone is not easily scratched and looks brand new when it's been cleaned.
Ham holders for sale at Ibergour (sorted by price):
| | Subjection | Rotating grip | Foldable | Adjustable height | Professional use |
| --- | --- | --- | --- | --- | --- |
| | | | ✓ | | |
| | | ✓ | | | ✓ |
| | | ✓ | ✓ | | ✓ |
| | | ✓ | ✓ | | |
| | | | | | ✓ |
| | | | ✓ | | |
| | | ✓ | | | ✓ |
| | | ✓ | | | ✓ |
| | | ✓ | | ✓ | ✓ |
| | | ✓ | | ✓ | ✓ |
| | | ✓ | | ✓ | ✓ |
| | | ✓ | | ✓ | ✓ |
| | | ✓ | ✓ | | ✓ |
| | | ✓ | ✓ | | ✓ |
Other less important considerations
Length of the base: Iberian hams usually measure about 90 cm and any of the above table brackets allow for a proper cut. However, restaurants and shops selling cut hams tend to prefer larger hams, from 9 to 12 kg, because they have a superior performance. Our recommendation in these cases is to opt for a fairly long base, because otherwise you'd have no support for the tip of the ham (the end opposite to the hoof) to be out of the holder.
Furthermore, the shorter the base, the steeper the ham. There are those who prefer it this way but usually it makes it a little more difficult to keep the cutting area flat.
Skewer: Many of the jamoneros have a spike on one end to hold the end of the ham that touches the base (see photo 5). While it's useful in the shorter and lighter jamoneros it is not so essential in high-end ones as the subjection of the hoof is very good. In fact, many professionals do not like using a skewer because it maims that part of the ham, causing an air inlet that can affect the quality of meat in that area.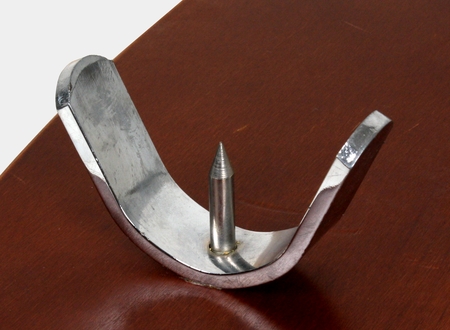 Cleaning: Plastic, silestone or steel bases are the easiest to clean. Wood always absorbs some fat which poses no hygienic risk, but it affects your appearance. Over time – and after a few hams – spots start appearing.
Price: Given the amount of a good ham, it's not worth skimping on the jamonero or the knives, because the final result can be very different depending on their quality. Getting a fine cut and reduce the risk of injury is priceless.