Until recently, what worried consumers most was the salt content of cured ham. WHO (World Health Organisation) recommends consuming a maximum of 5 grams per day (even less in children and adolescents) to reduce the risk of cardiovascular disease, although the world average of between 9 and 12g is more than double.
These days it seems that other additives used by most manufacturers generate more fear or distrust in consumers: preservatives, antioxidants, acidity regulators … This article will try to explain why they are used and what the associated health risks are.
Salt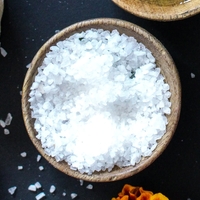 Salt is the oldest known preservative and without it meat would rot. It's also a flavour enhancer: we tend to find that ham with less than 2.5% salt is tasteless and with an unpleasant texture.
Pata negra ham (jamón ibérico) has the least salt content of them all (between 2.5% to 4.5%). It's followed by Serrano ham (5%), Bayonne ham (5.5%) and Parma ham (5.7%). Credit goes to genetics in this case: the marbling fat and higher pH level in Iberico hams hinders the penetration of the salt.
When compared with other types of products, it would be at the same level as Roquefort cheese or olives.
As we mentioned in the introduction, it's been proven that excess salt increases the risk of cardiovascular disease (hypertension, heart attacks, etc.) but it's also thought to cause kidney failure and osteoporosis.
Preservatives
The most commonly used preservatives are potassium nitrate (E-250) and sodium nitrite (E-252). Nitrates and nitrites have been used for hundreds of years and play an important role in ensuring the microbiological safety (especially protecting consumers from botulism) of foodstuffs.
The European Food Safety Agency limits the maximum amount of sodium nitrite to 100mg/kg and potassium nitrate to 150mg/kg (Directive 2006/52 /EC). It is such a low amount that the formation of potentially carcinogenic nitrosamines is negligible. Furthermore, jamón isn't a product that has to be cooked, so that the high temperatures needed to display said compound (130ºC) wouldn't be reached. In this sense a much more dangerous meat would be, for example, bacon, as it is a product with a short maturation period and cooked at high temperatures (150-190°C).
These two compounds, in addition to protect us from certain bacteria, also influence the colour and aroma. The meat becomes slightly redder and the smell of curing overpowers any rancid aromas.
Almost all producers use one, or both, of these preservatives with some exceptions being Joselito hams and the organic hams (also known as ecological). This commitment to the elimination of additives requires them to exercise extreme control of the curing process, especially during the first 3 months, which is when there is more risk of microbiological contamination. On the other hand, these pieces tend to have a longer maturation period of between six months to a year. The more dehydrated the ham, the harder it is for bacteria to grow.
The effect on the colour is not essential in the case of Iberian ham, as the high content of zinc in this type of meat is the main guarantor of its reddish coloration, and so it doesn't need the coloration effects of the preservatives.
However, in Italy they have eliminated all additives in Parma ham and San Daniele for quite some time now (except salt, of course). And in Switzerland the use of sodium nitrite (E-252) is not allowed under any circumstances.
Antioxidants
Sodium ascorbate (E-301) is often added to reduce the adverse effects caused by preservatives, as it reduces the generation of nitrosamines. It's considered harmless, but consuming more than 10mg per day can cause diarrhoea and kidney stones.
Acidifiers
Sodium citrate (E-331-iii) is completely harmless and there are no set daily limits on how much is safe to ingest. It serves to regulate the pH (acidity) and to strengthen the role of antioxidants.
Sugar (or lactose, which is the sugar found in milk)
Although often used in sausages, it's rarely used in ham and serves to mask the bitter, stale notes.
In short, the most harmful additive used in ham is salt. If we were to share an 80g serving with one other person, we will have ingested between 1 and 2g of salt, which is between 20% and 40% of the recommended daily amount, more or less the same as if we were to eat 125g of bread (half a baguette, for example). What can I say? I would rather stop eating bread and eat a whole tapa of Pata Negra ham.