Growing and Production Areas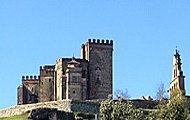 Iberian breed pigs come from different "dehesas" in Andalusia (Cordoba, Huelva, Seville, Cadiz and Málaga) and Extremadura (Caceres and Badajoz), but the jamon curing and maturation process is only performed in 31 municipalities of the La Sierra county, of which Jabugo is the most notable.
Characteristics of the Jamón de Huelva Designation of Origin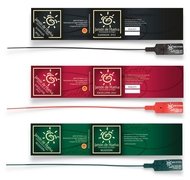 To be included under this Designation for the production of jamones and paletas (shoulder hams) pigs must be pure Iberian breed or a cross of 75% Iberian breed and 25% Duroc-Jersey breed.
For animals that eat a diet only of acorns and natural grasses during the finishing period (montanera) there can be no more than 1 pig per hectare, whereas for animals having a diet of natural forage supplemented with commercial feed during the finishing period a maximum of 10 pigs is allowed per hectare, with a minimum distance between water points and feeders of 100 metres.
Three classes of iberico jamones have been established according to pig breed and diet before slaughter:
SUMMUM: Pieces from 100% Iberian pigs feeding on acorns and grasses on the open range during the finishing period. They are identified by a black tamper-evident security seal and a label of the same color indicating the year of slaughter.
EXCELLENS: Pieces from 75% Iberian pigs feeding on acorns and grasses on the open range during the finishing period. They are identified by a red tamper-evident security seal and a label of the same color indicating the year of slaughter.
SELECCIÓN: Pieces from purebred or crossbred Iberian pigs fed with compound feed and raised in a place with ample space to move around. When they have reached a weight of 85 kg there should be no more than 10 animals per hectare. The minimum distance between water troughs and feeders is 100 meters because the exercise boosts fat marbling in the meat, which enhances flavor and aroma. They are identified by a green tamper-evident security seal and a label of the same color.
Pigs must be slaughtered in the locality where they are produced; i.e., in one of the 31 municipalities of the Sierra de Huelva, from which they must not be removed until the minimum maturation period has been completed.
The natural drying process takes place in drying rooms located on the upper floor of meat production buildings, and maturation, in the bodegas found on the ground floor, or in the cellar, of those buildings. In both cases the microclimate conditions of the Sierra de Huelva are an essential part of the process, since both the drying room and bodega are ventilated naturally, and artificial changes in temperature and humidity are prohibited.
The minimum production time for jamones under these conditions, as stipulated by the Producers' Association, varies according to weight and grade, but for hind leg cuts it must be over 18 months, and for paletas (shoulder hams), over 12 months.
Adding the term "Jabugo" to the P.D.O.'s name
In 2008, the Consejo Regulador de la DOP Jamón de Huelva (Regulatory Board for the Protected Designation of Origin of Huelva Ham) requested to change its name to Jabugo Designation of Origin. The "Jabugo" brand is synonymous with quality jamon, and so is a very attractive proposition from a commercial viewpoint.
Along with other manufacturers from Jabugo who did not come under the DO, Sánchez Romero Carvajal (the Cinco Jotas producer) opposed the plan and managed to delay the change of name until 1 August 2015, when it was officially announced by the BOE (Spain's Official State Gazette).
In terms of quality, there is no great difference between curing jamon in Jabugo or in any of the nearby towns such as Corteconcepción, Cortegana, Cumbres Mayores, Aracena, El Repilado or Aroche, to name just a few. The maturation cellars in these towns impart the jamones with an easily recognisable personality, so it was expected that they would all be able to share in the renown of a name as juicy as "Jabugo".
Huelva iberico jamones...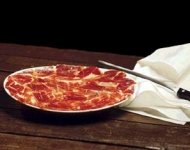 The characteristics of the hind leg (jamon) and shoulder (paleta or paletilla) hams of the Jamón de Huelva Designation of Origin are:
The leg is long and slender, and the hoof is black (pata negra). The outer side presents the typical "V-shaped" Serrano cut, and is covered with a thick layer of glossy fat. The inner side shows signs of fungal growth of a white or bluish gray colour, an unmistakable sign of its slow maturation in the bodega.
Weight: Not less than 4.5 Kg. for hind leg cuts, or 3.5 Kg. for paletas.
Appearance of sliced meat: Lustrous. Anything from rosy to purplish red, depending on the degree of maturation.
Consistency: The flesh should not be fibrous. It should be marbled with fat and have a silken texture; it should tear easily.
Flavour: Fragrant and delectable, with a delicate aroma. There should be only the faintest hint of saltiness.
The deep red colour that appears when the jamon is cut is due to the fact that these are free range animals of a relatively advanced age (18 months). Infiltration of the muscle fibres by fat is responsible for the characteristic marbling of Iberian pork products that gives them a soft succulence. The infiltrated fat is highly lustrous because of its low fusion point, essentially due to the acorn-based diet. The jamones' aroma and intense, persistent flavour are the result of their prolonged maturation period. Another feature of Huelva jamones is their low salt content, since the optimum climatological conditions of the region mean less salting time is required here than in other areas.
Bodega maturation time according to weight, grade and type
Cut weight of the jamon at the slaughterhouse
Minimum bodega maturation time
Anticipated final weight after bodega maturation
Jamon
from 7 to 8 kg
from 7 to 9 months
from 4.5 to 5 kg
from 8 to 11 kg
from 9 to 12 months
from 5 to 7.5 kg
more than 11 kg
16 months
more than 7.5 kg
Paleta
from 4 to 5 kg
5 months
from 3.5 to 4 kg
more than 5 kg
6 months
more than 4 kg
Some figures...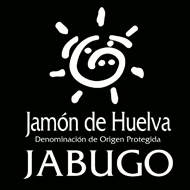 In 1996 the first year's production of Spanish jamones regulated by the P.D.O. Jamón de Huelva went on sale: a total of 3,842 jamones and paletas. The record was achieved in 2003, with 142,517 jamones, but D.O. certified production has gradually decreased since then.
An upturn took place until the economic crisis that broke out in 2008, with upwards of 100,000 jamones even being made, but production barely reached half that figure in 2014 and 2015.
Other facts:
2005
Iberian pigs subjected to D.O. regulations: 21,480 (81% bellota, 13% recebo, 6% cebo)
"Bellota" grade jamones and paletas in bodegas: 74,137 (95% of the total)
Bodegas: 30
Secaderos: 32
Pig farms: 146
Slaughterhouses and cutting premises: 15
2008
Iberian pigs subjected to D.O. regulations: 47,885
Certified pieces: 107,841
Summum quality jamones and paletas: 52,910 (49% of the total)
Excellens quality jamones and paletas: 15,849 (15% of the total)
Gran Selección (recebo) quality jamones and paletas: 985 (1% of the total)
Selección quality jamones and paletas: 38,097 (35% of the total)
Bodegas: 41
Secaderos: 43
Pig farms: 467
Slaughterhouses and cutting premises: 24
2010
Iberian pigs subjected to D.O. regulations: 41,451
Certified pieces: 119,537
Summum quality jamones and paletas: 81,745 (68% of the total)
Excellens quality jamones and paletas: 11,606 (10% of the total)
Gran Selección (recebo) quality jamones and paletas: 381 (0% of the total)
Selección quality jamones and paletas: 25,805 (22% of the total)
Bodegas: 37
Secaderos: 39
Pig farms: 501
Slaughterhouses and cutting premises: 21
2014
Iberian pigs subjected to D.O. regulations: 16,143
Certified pieces: 67,194
Summum quality jamones and paletas: 56,499 (84% of the total)
Excellens quality v: 7,388 (11% of the total)
Gran Selección (recebo) quality jamones and paletas: 0
Selección quality jamones and paletas: 3,307 (5% of the total)
Bodegas: 37
Secaderos: 39
Pig farms: 501
Slaughterhouses and cutting premises: 21