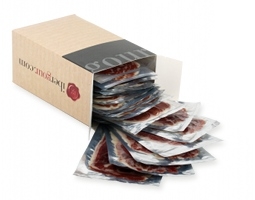 Especially for you! A 5% discount coupon to purchase sliced ham, shoulder or charcuterie.

Your coupon code for sliced products:
KESX8JVPPZ
And there's more! You can get additional discounts of 5% to 15% on purchases of 10 or more packs of the same product.
This coupon can only be used once, and is valid until August 31st, 2010. To use it, visit us at https://www.ibergour.com/en, fill up your shopping cart, and follow the link "Use discount coupon" at the shopping cart page.

FREE Shipping for orders starting at €250 ( £207.90 )
Bound for England, Wales, and Scotland
Delivered within 5-7 working days.
---
Your order shall be paid for in euros, since IberGour is a Spanish company. Prices in pounds are based on 14-June-2010 exchange rate: £1 = €1.1999 (source: Yahoo!® Finance).
Product prices and availability may change a few days after this message is sent.
If you prefer not to receive emails like this one you can reply to this message with "Remove" in the body and we will remove you from the list.