---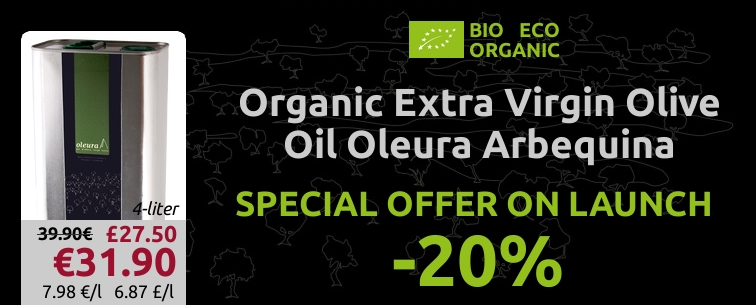 This week we have a new item in the IberGour catalog of Oleura ecological products: an organic extra virgin olive oil of top gourmet quality. It is made in Juncosa de les Garrigues (Lleida province) from olives of the arbequina variety by cold pressing using mechanical procedures only.
The name of arbequina comes from Arbeca, a town in the comarca of Les Garrigues, where this variety originally from Palestine was first introduced in Europe in the 17th century.
It has been certified by the Catalan Board of organic Agrarian Production (Consell Català de la Producció Agrària Ecològica - CCPAE), which guarantees that no chemical fertilizers or pesticides are used in its production.
We recommend this olive oil with its fruity touch and slight taste of apple and almond for salad dressings, bread with tomato (pa amb tomàquet), vegetables, pastas, meat and fish. It can also be used in sauces like pesto, alioli (oil with garlic) and pil-pil.
Dress up your summer meals with the Mediterranean flavor par excellence.
Only until Monday, July 22 2013
(and while stocks last)