---
This month's offer for IberGour customers is an Iberian black-hoof bellota ham cured for four years in natural ageing "bodegas" and certified by the Dehesa de Extremadura Designation of Origin, one of the strictest for quality control.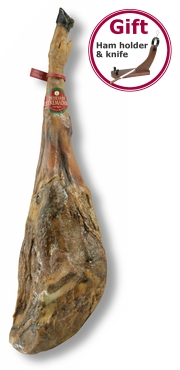 Cured 48 months minimum.

4.6
(based on 9 customer reviews)
-25%
Normal Price:

377 EUR

(7 Kg ham)

Offer price:

283 EUR


242 GBP

You save:

94 EUR

(Prices include VAT)
Only until Monday, May 27, 2013
(and while stocks last)
---
Other formats: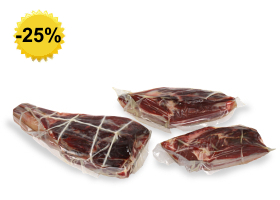 Normal Price:

359 EUR

Offer Price:

269 EUR


230 GBP

You save:

90 EUR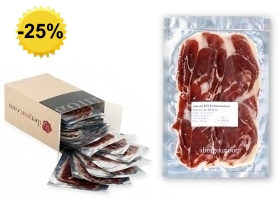 Normal Price:

337 EUR

(Nettogewicht 2 Kg)

Offer Price:

253 EUR


217 GBP

You save:

84 EUR

---
Money back guarantee
If you observe that a piece is faulty when you start consuming it, we will exchange it for another, or it will be refunded in full (
more on our return policy
).
---
If you prefer not to receive emails like this one you can reply to this message with "Remove" in the body and we will remove you from the list.
---