---
We know that some of our customers were late to take advantage of our offer in January, so we are now offering an unrepeatable price on one of the best hams on sale on IberGour.
These are large hams, approximately 8 kg, cured for four years in natural ageing "bodegas" in the south of Extremadura.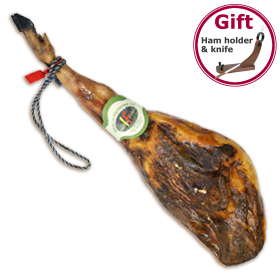 -40%
Offer price:
288 €

|

£244
VAT incl.
Normal price:
480 €
|
£406
You save: 192 €

|

£162
(8 Kg ham)
Only until Wednesday, February 29th 2012
(and while stocks last)
---
Money back guarantee
If the ham does not reach you in optimum condition, or in any way fails to meet your expectations, we will exchange it for another, or it will be refunded in full (
more on our return policy
).
---
Standard Shipping €8.97 | £7.59 (Northern Ireland: €10.38 | £8.78)
Delivered within 5-7 working days. Express shipping available.
---
If you prefer not to receive emails like this one you can reply to this message with "Remove" in the body and we will remove you from the list.
---